From July 19 to August 08 2022, the MTS group consisting of 4 teams performed work on two profiles in the Kochkor district of the Naryn region, Ukok-2 and Chon-Tuz. On the profile "Ukok-2", which is located south of the village of Kochkorka, teams No. 1, No. 2 and No. 3 carried out work on magnetotelluric sounding (MTS) at 11 points. At 10 observation points, the duration of the registration of the MT field in the MTS mode was 60-65 hours, at the observation point FT21 in the deep MTS mode, the registration was performed in the form of two registration sessions, and the duration of each was about 240 hours. The work was carried out using Phoenix MTU-5 and MTU-5A measuring systems in the normal recording mode. At the same time, seismic fields were recorded at observation point FT21 using the installed gradient seismic installation.
Before the start of the main work on the profile "Ukok-2", in the area of ​​the observation point FT15 (MTS), teams No. 3 and No. 4, using the multi-electrode station "Skala 48", carried out work on 24-hour monitoring in the amount of 37 blocks of measurements, duration every 40 minutes by methods of electric tomography and induced polarization, type of array configuration "Schlumberger".
Last Updated on Thursday, 29 September 2022 07:53
On July 6, 2022, staff of RS RAS in Bishkek city conducted a comprehensive scientific and technical tour for students of the Kyrgyz-Russian Slavic University (KRSU, https://krsu.edu.kg/) and the American University of Central Asia (AUCA, https://auca.kg/) sent to RS RAS for educational and field practices.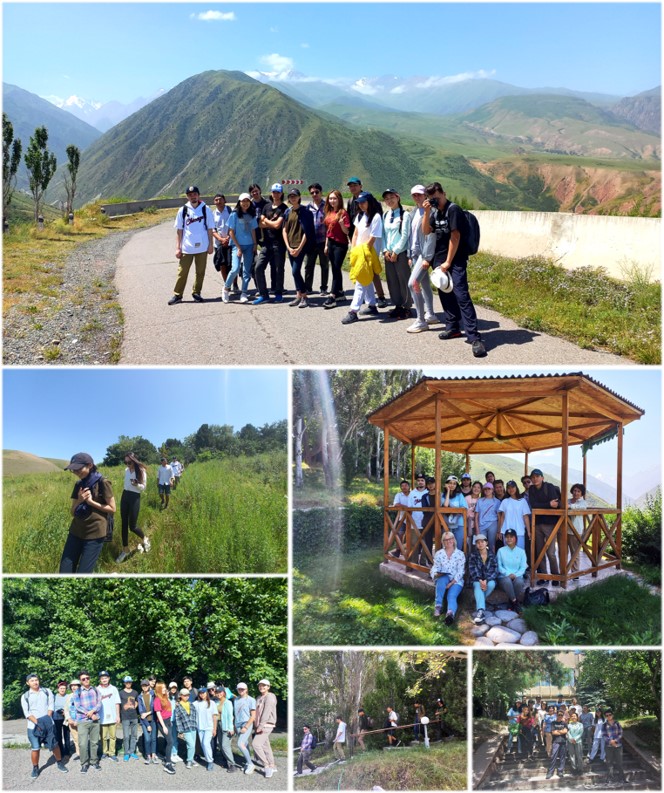 Last Updated on Tuesday, 09 August 2022 13:44